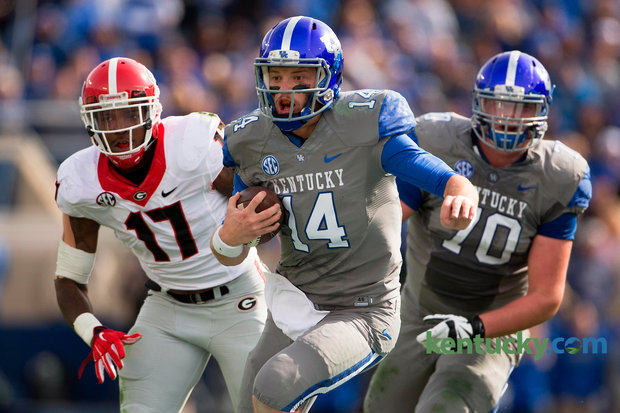 Forty-one players, including three from the University of Kentucky, were named Wednesday to the 2015 All-Commonwealth Team announced by the Kentucky Pro Football Hall of Fame.
UK quarterback Patrick Towles, defensive back A.J. Stamps and offensive lineman Jon Toth were among those named to the squad.
The Kentucky Pro Football Hall of Fame started the All-Commonwealth Team in 2010 to recognize young players at a local level.
The announcement leads up to the Hall of Fame's annual induction ceremony June 26 at the Brown Theatre in Louisville.
ALL-COMMONWEALTH TEAM
Campbellsville: Jacob Russell, Percy Minor, Dekwain Tarrance.
Centre: Brandon Kamp, Heath Haden, Alex Mattingly.
Eastern Kentucky: Dy'Shawn Mobley, Stanley Absanon, Brett Eyckmans, Trey Thomas.
Georgetown: Richard Grimes, Tyler Brooks, Josh Harris.
Kentucky: Patrick Towles, Jon Toth, A.J. Stamps.
Kentucky Christian: Andrew Stewart, Aaron Cooper, Mike Ritter.
Kentucky State: Jermaine Graham, Trevon Spencer, Eric Rawls, Michael Moaga.
Kentucky Wesleyan: Xavier Mitchell, Keelan Cole, Tyler Hermann.
Lindsey Wilson: Alex Abner, Emilio Gonzalez, Josh Haney.
Louisville: Keith Kelsey, Brandon Radcliff, Sheldon Rankins.
Morehead State: Jake Raymond, Luke Keller, Justin Cornwall.
Union: Chandler Whittlesey, Jake Johnston.
Western Kentucky: Brandon Doughty, Leon Allen, Mitchell Henry, Wonderful Terry.