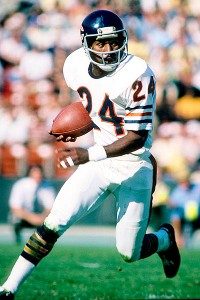 Virgil Livers
Virgil Chester Livers, Jr. (born March 26, 1952 in Fairfield, Kentucky) is a former American football cornerback in the National Football League. He was drafted by the Chicago Bears in the fourth round of the 1975 NFL Draft. He played college football at Western Kentucky.
Livers also played for the USFL Chicago Blitz 1983-1984 as a defensive back. The team went 17-20 in those two years.
One of the great success stories in the history of Western KY University Hilltopper athletics, Livers came to the Hill from Nelson County High School as a walk-on in football, developed into an All-America athlete and then went on to enjoy an eight-year career in professional football, six of those as a mainstay in the defensive backfield of the NFL's Chicago Bears.
Livers was named to the All-Time Ohio Valley Conference Football Team in 1988 and now, some 28 years after he concluded his career on the Hill, he still holds four WKU school records as a punt return specialist – returns in a season (50), net yards in a game (145) and in a season (545), and touchdowns in a season (3) – and one for interception returns – average yards per return in a season (24.6 yards per effort – five for 123 yards). And, his career interception yardage total (250 yards) stood tied as the Topper school record until 2002.
He was a key figure on some of the great football teams in Western history, lettering four years (1971-74) as a defensive back and return specialist on Topper clubs that won 34 of 43 games (79 percent) and two Ohio Valley Conference championships (1971 and '73 – WKU was second in the conference in both '72 and '74). And, he was a member of the '73 team that took runner-up honors in the first-ever NCAA national championship playoffs.
Livers remains one of only two defensive players in the Western record books to lead the team in all-purpose running. His 720 all-purpose yards (545 on punt returns, 123 on interception returns and 52 on kickoff returns) led the 1974 Hilltoppers in that category.
He was also a standout sprinter on the Topper track team. His 440-yard-relay team's 40.4 clocking in 1974 remains a school record. And, during his days on the Hill, he was also a basketball cheerleader.
Livers was the first gridder in Western history to participate in a major postseason all-star game. The 1974 OVC Defensive Player-of-the-Year and a fourth-round draft pick of the NFL's Chicago Bears, he earned berths in both the American Football Coaches Association All-American Game (Lubbock, Texas) and the College All-Star Game in Chicago (against the NFL champion Pittsburgh Steelers). In the College All-Star Game, he set a game record with his 89-yard punt return for a TD.