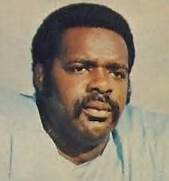 COUNCIL RUDOLPH
Born January 18, 1950, in Anniston, Alabama. Council graduated from Cobb Avenue High School in 1968. In his senior season, he helped the team go to a 9-0-1 championship season. He earned all-conference honors and a scholarship to Kentucky State.
He attended college at Kentucky State University. In his senior season, Kentucky State ended 8-3-0 and played in the Orange Blossom Classic Bowl game. He was a Pittsburgh Courier Honorable mention. He was inducted into the Kentucky State Athletic Hall of Fame in 1987 and the Calhoun County (AL) Sports Hall of Fame in 2009.
Council was drafted by the Houston Oilers in the 7th round as the 160th pick in 1972. Rudolph played defensive end for six seasons for the Houston Oilers, the St. Louis Cardinals, and the Tampa Bay Buccaneers.  He helped the St. Louis Football Cardinals win two NFC East Championships (1974 & 1975). He retired after playing 6 seasons in the NFL with Houston, St. Louis and Tampa Bay.