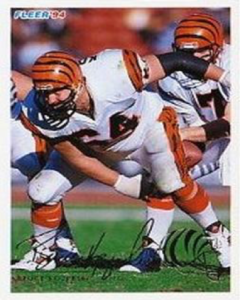 Bruce Kozerski
Bruce Kozerski (born April 2, 1962 in Plains, Pennsylvania) is a former American football center who played twelve seasons with the Cincinnati Bengals in the National Football League. He graduated from James M. Coughlin High School in Wilkes-Barre, Pennsylvania. He was an alternate in the 1988, 1989, and 1990 Pro Bowls and a member of the 1988 AFC Championship team. "Mr. Versatile", as he was called, retired after the 1995 season. He married Elizabeth McMurrer and is a father of three children.
Bruce was the 2011 season winner of the Paul Brown Excellence in Coaching Award. The award is given annually by the Bengals to an outstanding high school football coach in the region.
He is a teacher at Holy Cross High School in Covington, Kentucky where he teaches geometry, pre-calculus, and calculus. He is also the head football coach at Holy Cross as well. He lives in Edgewood, Kentucky.
On November 25, 2011, Kozerski, in his 8th year as head coach, led Holy Cross High School's (Covington, Kentucky) football team to the Kentucky High School Athletic Association Division 2A, state football championship. It was the Indians' first appearance in the state championship game. Holy Cross defeated Glasgow High School 33-14 in the championship game.
"It's gratifying to bestow this award on Bruce and his school, because he was a standout Bengal both on and off the field during his years with us," said Bengals president Mike Brown.
Kozerski's teaching load at Holy Cross includes courses in Algebra, Honors Geometry, Pre-Calculus, Honors Calculus and Physics. He has spearheaded social service activities, including taking 40 students on an 18-hour bus trip to New Orleans to assist with clean-up after Hurricane Katrina.
Kozerski played 12 seasons (1984-95) for the Bengals, one of only 14 players to log that many. He was the starting center on the 1988 Bengals team that won the AFC Championship and a berth in Super Bowl XXIII.