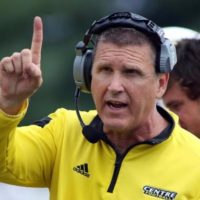 Andy Frye, the all-time winningest coach in Centre history, has been the head football coach of the Colonels since the 1998 season. Since that time Centre has become one of the most respected football programs in all of Division III.
Frye owns a 150-73 career record, becoming Centre's all-time leader in coaching victories with a 34-7 triumph over Defiance on September 13, 2014. With the win, Frye surpassed his predecessor and 2002 Centre Hall of Fame inductee Joe McDaniel.
Over the last six seasons, Frye's program has put together a stellar 50-13 mark, including the school's first Southern Athletic Association title and 16th conference championship overall in 2014, and another in 2018. Centre finished with a 10-1 ledger during that historic '14 campaign, tying a school record for most victories in a season. The Colonels achieved a perfect 10-0 mark in the regular season, their first undefeated regular season since the 1955 campaign, and qualified for the NCAA Division III Playoffs for the second time under Frye.