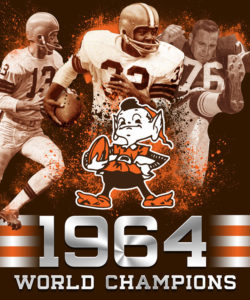 64 Cleveland Browns
The 1964 National Football League championship game was the 32nd annual championship game, held on December 27 at Cleveland Stadium in Cleveland, Ohio. With an attendance of 79,544, it was the first NFL title game to be televised by CBS.
The game marked the last championship won by a major-league professional sports team from Cleveland until 2016 when the Cleveland Cavaliers won the NBA Finals, as well as the last NFL championship game the Browns have won to date.
The Baltimore Colts finished the 1964 regular season with a record of 12–2 and handily won the Western Conference for the first time since 1959, clinching the title with three games remaining; the runner-up Green Bay Packers were at 8–5–1. The Colts were led by second-year head coach Don Shula and quarterback Johnny Unitas. This was the Colts' third NFL championship game appearance since joining the National Football League in 1953, seeking to win their first since repeating in 1959.
The Cleveland Browns finished the regular season with a record of 10–3–1, winning the Eastern Conference by a half game over the St. Louis Cardinals at 9–3–2.The Browns were led by their head coach Blanton Collier, quarterback Frank Ryan, running back Jim Brown, and receivers Gary Collins and Paul Warfield. This was the Browns' eighth NFL championship game appearance since joining the NFL in 1950, and the first since 1957.
Ticket prices for the championship game were six, eight, and ten dollars, and the Colts were seven-point favorites on the road.