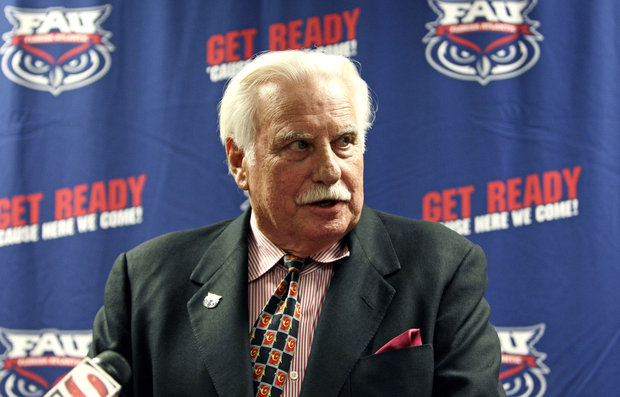 WEST PALM BEACH, Fla. — Howard Schnellenberger has an autobiography coming out Sept. 1 titled Passing the Torch. The only greater wish I could imagine would be an audiobook with the coach himself booming out every word.
This guy has more epic tales to tell than Mark Twain, and almost as many unforgettable characters to introduce on the river of his life.
Schnellenberger played at Kentuck
y from 1952 to 1955 and was a UK assistant coach in 1959-60. He played and worked for Bear Bryant. He recruited Joe Namath to Alabama, at one point writing bad checks to transport the star prospect to Tuscaloosa before somebody else could snap him up. Schnellenberger was the offensive coordinator for Don Shula's perfect 1972 Dolphins, too, and the visionary who started the University of Miami's national championship tradition.
Add it all up, with the resurrection of Louisville's program and the birthing of Florida Atlantic's thrown in, and there's only one big-time minus.
Schnellenberger, 80, keeps getting passed over for induction in the College Football Hall of Fame. There's no real logic to that, but there is a technical reason.
The National Football Foundation requires that coaches have a .600 career winning percentage to be eligible. Schnellenberger got off to a great start at Miami (41-16 and a national title in 1983), but his willingness to take on the long, hard work of building other programs from the bottom left his college career record at 158-151-3, barely over .500.
There's a way to bypass this problem. The Hall of Fame has a special committee that examines "unique cases." If anyone in college coaching qualifies more than Schnellenberger, or has been more famous, for that matter, at the peak of his powers, it must be a very short list.
Two coaches made the grade when the 2014 induction class was announced May 22 — Oregon's Mike Bellotti and Appalachian State's Jerry Moore. The former won a couple of Pacific-10 championships in 14 years of major-college coaching. The latter won three consecutive national titles with a powerhouse small-school program but never had a winning record in five seasons at Texas Tech.
Successful coaches, sure, but hardly on a scale beyond Schnellenberger's reach.
Schnellenberger, a former NFL head coach at Baltimore, didn't drop down to that small-college level until he was 67, and that was to inaugurate the program at Florida Atlantic. Even then, he had the Owls up to FBS status by their fifth season. The easy way just never had much of an appeal.
That's really the point here. Schnellenberger shouldn't be punished by the Hall's eligibility criteria for taking on the worst jobs and transforming them into something grand. Miami football had lagged so badly before Schnellenberger's arrival that not even a visit by Notre Dame could guarantee 25,000 fans at the Orange Bowl in 1975.
Louisville, likewise, was an overlooked independent until Schnellenberger arrived to push the Cardinals to a Fiesta Bowl rout of Alabama. This fall Louisville begins play in the ACC, operating from a football complex that bear Schnellenberger's name.
The Florida Atlantic epilogue to this story features construction of an on-campus stadium that only Schnellenberger could have made happen. Miami could have had one, too, if school officials had trusted his instincts and direction.
Look to the Bear for Schnellenberger's inspiration in all things.
Maryland was coming off a 1-7-1 season when Bryant got there in 1945. The Terrapins promptly went 6-2-1 and lost their hot young coach to Kentucky.
The Wildcats had not won more than six games in a season since 1912 at that point, but Bryant got them to 7-3 in his first season. From 1949-51, Kentucky played in the Orange Bowl, the Sugar Bowl and the Cotton Bowl. The program hasn't been to a major bowl since.
Texas A&M got a similar boost from the Bear, and next came Alabama, which was 4-24-2 in the three seasons before Bryant's hiring, with a 17-game losing streak included in that skid. Three seasons into the Bryant era, the Crimson Tide was 11-0 and celebrating a national championship.
Schnellenberger showed the same boldness in signing up for ugly assignments, and the similar belief that he could turn any situation around. Other than stubbing his toe during one 5-5-1 season at Oklahoma, it worked. Not on the scale of Bryant's success, of course, but it worked.
If the Hall of Fame can't see the value in that, then the people who run that show are outsmarting themselves. That's a shame for Schnellenberger, who belongs on any list of men who have made college football shine.
Read more here: http://www.kentucky.com/2014/07/31/3360048_schnellenberger-deserves-entry.html?rh=1#storylink=cpy