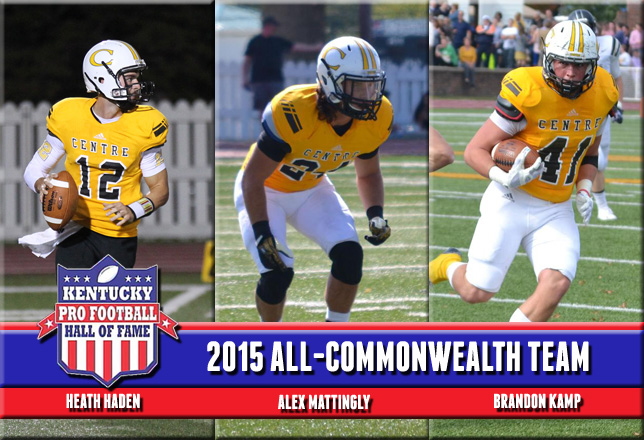 May 08, 2015
Centre was recognized with three selections to the Kentucky Pro Football Hall of Fame's 2015 All-Commonwealth Team on Friday, with Heath Haden (Kingsport, Tenn.), Alex Mattingly (Louisville, Ky.) and Brandon Kamp (Cincinnati, Ohio) all receiving the honor.
The award annually recognizes a group of the top rising seniors on college football teams in the state of Kentucky. In 2015, 41 players from 13 Kentucky schools at the NCAA Division I, II, III, and NAIA levels were selected.
Haden, a quarterback from Kingsport, Tenn., is a three-year starter and a three-time All-Southern Athletic Association selection. Haden has thrown for 6,405 yards and 49 touchdowns in his career, including 1,888 yards and 21 touchdowns last season. Haden also ran for 587 yards and six touchdowns in 2014.
Kamp, a tight end from Cincinnati, Ohio, was selected to the All-Commonwealth Team after being a First Team All-SAA pick the last two years. Kamp led all SAA tight ends with three touchdown catches last year, and has seven touchdowns on his career.
Mattingly, a defensive back from Louisville, Ky., also returns after being a First Team All-SAA pick last season. He led Centre's defense with 73 tackles and three interceptions last season, both of which ranked in the top five in the conference.
The Colonels finished their 2014 season with a 10-1 overall record, an undefeated regular season, their first SAA championships, and their second NCAA Playoff appearance. Centre will open its 2015 season on Sept. 5 at Hanover.