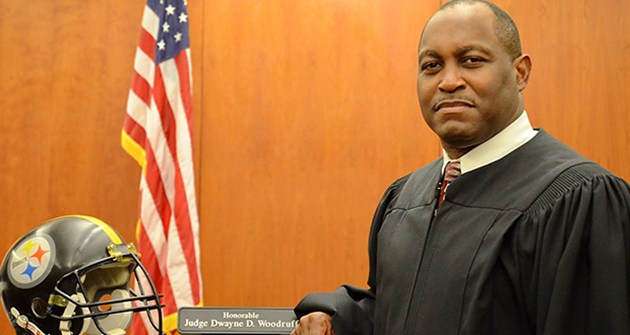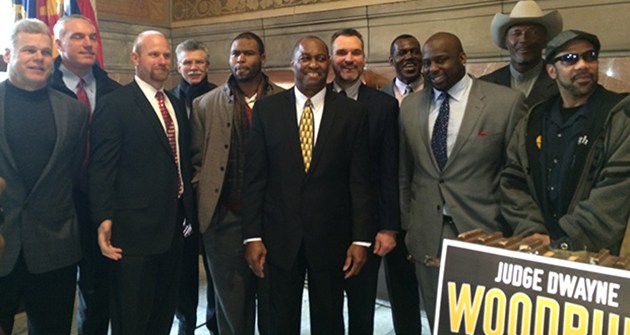 Preparation and education have always been two of The Honorable Dwayne Woodruff's core principles. From his decision to attend the University of Louisville, to his 12 seasons as a cornerback for the Pittsburgh Steelers, to his current career as Allegheny County Common Pleas Court Judge, with every step he has taken he has been mindful of the next.
The fifty-seven year-old Woodruff, who recently announced his candidacy for the Supreme Court of Pennsylvania never planned on an NFL career. However, it turned out to be the launching pad for everything that followed.
The son of a career Army infantryman he originally thought he might pursue a career as an Air Force pilot. But after watching his father become a quadriplegic due to the physical stress placed on his body during his military service, which included fighting in the Vietnam War, Woodruff's focus shifted. He chose Louisville with education as his priority; and education remained his priority. However, he also knew early on that when opportunity knocks, you answer the door. Woodruff, who excelled both academically and athletically at Louisville, wasn't considered an NFL prospect, (in large part due to a poor 40 time he had turned in while battling a knee injury) until his friend and teammate, running back Nathan Poole, was being scouted. Every time Poole was asked to do a workout for NFL scouts, he brought Woodruff with him.
Then, Cardinals head coach Vince Gibson was selected to coach the Blue-Gray Football Classic (a former annual college all-star game). Woodruff was one of the players Gibson chose to take with him. Following the Blue-Gray game, Woodruff was notified that another cornerback scheduled to play in the Can-Am Bowl (another all-star game) was injured and he was invited to replace him. In spite of this additional exposure, Woodruff still wasn't invited to the NFL combine. Nonetheless, somewhere along the way, the Steelers saw something they liked and made him their sixth round pick in the 1979 NFL Draft.
Most people consider being an NFL player a fulltime job with a singularly demanding schedule. Not for Woodruff. One night during the offseason, a few years into his football career and already pondering his post-NFL life, he found himself watching a PBS fundraising auction. Woodruff bid on and won an LSAT study course and found himself on a new trajectory. He explained his initial thoughts on pursuing a legal career.
"Being a lawyer would do two things, it was competitive and I like the competitive side and the preparation. It's like a battle, like football."
At the time, he and his wife Joy, whom he had met in college, were living in Louisville during the offseasons. So, he applied to two law schools, the University of Louisville and Duquesne University (located in Pittsburgh). He got into both, but the tipping point in his decision was that Duquesne had a night program.
The Woodruffs relocated to live fulltime in Pittsburgh where Woodruff casually described his football season schedule.
"I'd go to the stadium (in the morning) and leave early evening," he said. "Then I'd go to class from 6:00 p.m. to 9:00 p.m., then study, and then home by midnight." In fact, Woodruff was attending law school when he suffered a season-ending knee injury in 1986 and underwent reconstruction of the knee. He couldn't play football, but he went to his law classes on crutches.
Not only did he graduate law school in 1988, but he became a practicing attorney while still a member of the Steelers. He retired from the NFL in 1990 and continued practicing law, ultimately becoming a founding partner of the law firm Woodruff, Flaherty and Fardo in 1997 before transitioning into his current position as a judge.
With education such a central element of his own life, Woodruff made it the foundation of his judicial work. Upon his first election, because he had garnered the highest number of votes, Woodruff was allowed first choice in selecting which court he would oversee. He chose the Court of Common Pleas specifically because it was family court and would allow him the ability to educate and help others.
Throughout his years as a judge he has chaired numerous committees and commissions related to the betterment of family services and the Pennsylvania court system and received numerous accolades for his work.
Then, in January 2015, Woodruff announced his candidacy for The Supreme Court of Pennsylvania.
Woodruff is excited and energized about the possibility of moving to the highest level of the judicial system in the state. However, he's proud of the reputation he's built in his current position and has bittersweet feelings about leaving it behind.
"I really enjoy where I am," he said. "I'm known more as an educational judge. I just believe if you're going to not just move ahead but help society at all you've got to have an education. It was a difficult decision for me to make because I get to help kids here in Allegheny County."
As if that wasn't enough, he and Joy, who have been married 36 years and have three grown children (one of whom is a physician and two who are attorneys including his son who is also a First Lieutenant in the Marine Corps) do more than their fair share of community work. In addition to a litany of community affiliations, more than two decades ago he and Joy founded Dwayne Woodruff Charities, which raises money for various youth projects in the Pittsburgh area. They also serve as the Pittsburgh co-chairs for the National Campaign to Stop Violence's "Do the Write Thing Challenge." The mission of the organization is to provide middle school students opportunities to share their thoughts and experiences regarding the impact violence has had on their lives and to engage them to make personal commitments to help reduce violence.
Joy hasn't been surprised by the extraordinary life and career her husband has built and which Woodruff acknowledges wouldn't have been possible without her partnership. "When I first met him I was thinking marriage," Joy said. "I could see he was something special."
Special indeed.
For more information on Judge Dwayne Woodruff: www.judgedwaynewoodruff.com